April 26th–30th, 2015 / Bucharest / Studio & Elvire Popesco Cinemas / the 4th Edition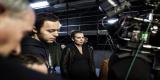 Monday, April 6, 2015
A revealing film about the agreements between the Italian state and the Mafia, that made a stir in 2014, at the Venice Film Festival, it is one of the seven titles in the Cinepolitica Film Festival's competition (April 26-30). The State-Mafia Pact / La Trattativa, directed by Sabina Guzzanti, reveals how certain state representatives acted as bridges or agents of organized crime.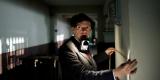 Wednesday, March 25, 2015
13 Minutes/ Elser,
the latest film directed by Oliver Hirschbiegel, opens Cinepolitica International Film Festival on April 26, beginning at 20:30, at Cinema Studio, in Bucharest.
Monday, March 16, 2015

Cinepolitica International Film Festival returns April 26-30, at Cinema Studio and Cinema Elvire Popesco from Bucharest, with a selection of strong films, debate sessions and special events. The fourth edition of the festival will raise a hot topic, the conflict between Russia and Ukraine, in a special program.